What should I expect on Photo Day?
We want to encourage a smooth picture day and the best way is to be on time (early is great too!) for your teams scheduled time.  Make sure to scan our QR code or text us to get informed of when photos are posted for purchase.  You can sign up for AdvancePay early to earn FREE SHIPPING.  Ask a staff member on site what your league's custom code is!
We will photograph your athlete, in different poses and using different props with no money needed up front.  We are so confident in our product you'll get to see it before you purchase!
Just sit back and relax in the shade.  Your player will be sent out of our photography area as soon as we are done.
How do I purchase my photos!
What do I need to do on Photo Day?
Be on time! Premier Sports Images will confirm the photo day and time you scheduled by email or phone. Please tell your team to arrive at least 10 minutes before that time.
Since teams are scheduled throughout the entire day, there is little time to wait. Your team will start being photographed at your scheduled time, so please be on time, if not early.
Please make sure that your forms are filled out completely.  This ensures that we stay on schedule and photograph the individuals and teams quickly.
When you arrive on Photo Day, head straight over to the photographer station.  We will be ready to take your player's individual photo.  Once the entire team arrives we can then take the group photo.  THIS ENSURES VERY LITTLE WAITING.
Please make sure your athlete is GAME READY.  Their entire uniform (minus shoes) is needed.
Bring what ever props you want to be photographed with.  Bats, Gloves, Balls, Pom-Poms, etc.
What methods of payment do you accept?
100% of our transactions are online and by card.  This protects everyone.
Do I have to pay for photos on Photo Day?
No!  Payment up front is not required.
If you want FREE SHIPPING then you can purchase an AdvancePay credit by midnight of your picture day.  This is the ONLY way to get free shipping.
When will photos be available to view?
We typically have a 14 day turnaround for most sports.  With large leagues that we composite together (Green Screen & Photoshop), it might take a little bit longer.  We will be sure to Text & Email you as soon as they are ready. Make sure you sign up and use your phone number!
When will I get my photos after picking them online?
Your photos will be posted online.  Make sure to opt-in to your league's special code to be texted when your pictures are posted.  Once you order them online, you will receive them 7-10 days later for prints, digital downloads have an instant download button.
What is a memory mate?
Click the image below to see a sample memory mate: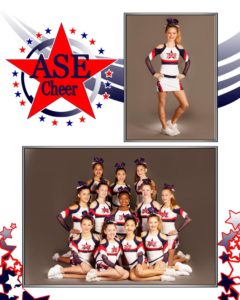 What if I cannot make it to my team's scheduled Photo Day?
We can still take an individual photograph of your athlete during any of our Photo Days scheduled for your organization. Just inform one of our team members of the situation when you arrive.
Can I see my photos before I make my order?
Yes!  Once the photos have been posted you can view them online.
What if there is something wrong or missing from my order?
Either call us at 407-242-6203 or email tony@premiersportsimages.com
Can I reorder products or add products to my original order?
Absolutely! The galleries can be revisited at any time!  You can also share the galleries with family members.
What do we do in case of inclement weather?
Our Photo Day schedule is based around game schedules. If games are canceled due to inclement weather, Premier Sports Images will also cancel all Photo Day appointments for that day.
Does my AdvancePay expire?
Yes, you have 13 months to use it.  Gotta use it or lose it!