What should I expect on Photo Day?
We want to encourage a smooth picture day and the best way is to be on time for your teams scheduled time. You'll have the opportunity to order photos of your athlete, there will be order forms and pens available as well as a customer service staff member to answer questions and take your payment. We accept all credit cards, cash, and checks. Once the team is called for their pictures, please allow the players to come with their order form. We ask only the people being photographed (coaches and players) be allowed in the photography area. This is to keep the undivided attention of the players and to keep the schedule needed for keeping the games running on time.
What do I need to do on Photo Day?
Be on time! Premier Sports Images will confirm the photo day and time you scheduled by email or phone. Please tell your team to arrive at least 10 minutes before that time.
Since teams are scheduled throughout the entire day, there is little time to wait. Your team will start being photographed at your scheduled time, so please be on time, if not early.
Please make sure that your forms are filled out completely.  This ensures that we stay on schedule and photograph the individuals and teams quickly.
When you arrive on Photo Day, be sure to find your coaches and team members and stay together. Please check in at the designated sales area. We will also be looking for coaches/photo representatives to help you check in. This sales area is where we collect order forms, run credit cards, hand out information, and answer any questions your team or parents may have.
After check-in, please keep your team organized so when your time comes, we are ready to begin immediately. Players will have a photo card with their name on it in hand and be in order from shortest to tallest. This height order will allow Premier Sports Images to make an efficient transition from individual photos to team photos and have your team's photography session completed in a timely manner. Please bring one prop specific to your sport (volleyball, bat, football, basketball, etc.) to use for individual photographs.
What methods of payment do you accept?
Premier Sports Images accepts cash, checks, Visa/MasterCard/Discover/AMEX for your convenience. There is a $1 fee for using a Credit/Debit card. Since our lab is in state for photo processing, our products are delivered quickly, often before checks have cleared. Therefore, Premier Sports Images utilizes a collection company that resolves all returned checks since products
are delivered assuming payment has been honored.
Do I have to pay for photos on Photo Day?
Yes, payment is required on Photo Day. Our process requires that you fill out paperwork and submit before your child is photographed. Coaches and parents can view and print order forms prior to Photo Day here. Please complete and bring this form with payment on Photo Day. Note: Additional order forms will be available on Photo Day.
When will I get my photos?
Your order will be delivered to your league within 30 business days. The packages are grouped per team for easy distribution. A mail to home option is available for an additional $5 per order if your league agrees to this.
What is a memory mate?
Click the image below to see a sample memory mate: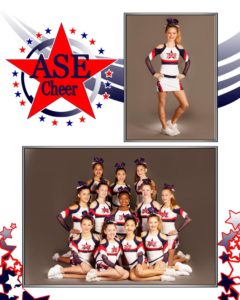 What if I cannot make it to my team's scheduled Photo Day?
We can still take an individual photograph of your athlete during any of our Photo Days scheduled for your organization. Just inform one of our team members of the situation when you arrive.
Can I see my photos before I make my order?
Unfortunately you cannot. We traditionally use a pre-pay system where you need to place the order and make payment first. This being said, all of our work comes with an Iron Clad Guarantee, so if you are not thrilled with your photographs, you will receive a refund or can schedule a retake at your request.
What if there is something wrong or missing from my order?
Either call us at 407-242-6203 or contact our Help Desk. Our Customer Service Team is available 8am-5pm, Monday-Friday.
Can I reorder products or add products to my original order?
Absolutely! Reorder information is included with your original order. Orders can be made with a simple phone call to 407-242-6203.
What do we do in case of inclement weather?
Our Photo Day schedule is based around game schedules. If games are canceled due to inclement weather, Premier Sports Images will also cancel all Photo Day appointments for that day.
At tournaments, do you photograph my athlete for every game?
We give each player ONE full game of coverage. Because we have so many sign-ups, we need to focus on new players who don't have any photos yet.
At tournaments, your photographer only focuses on my athlete, right?
Each photographer is usually assigned several athletes to photograph per game. We ask that you find and save your athlete's photos at our viewing stations located at the event. Our staff ensures that the photo-saving process is quick and easy. NOTE: not all events will have viewing stations available.
If I don't feel like searching through the photos, can I get my deposit back?
The deposit represents the customer's desire for our photos and our photographers work very hard to deliver great images.  We simply ask that you set aside time to view and save photos.  The deposit is non-refundable for those who refuse to look through them.
Does my deposit expire?
Yes, there are two different situations:
If your athlete is at an event where we DO have viewing stations (this will be noted when you sign up), your deposit/credit expires at the end of the event.
If your athlete is at an event where we do not have viewing stations and orders are available online, you will have 90 days from the end of the tournament to redeem your deposit/credit.